We pursue to satisfy the needs and requirements of our clients to their entire satisfaction by our professional approach of each task we undertake.
Our focus will be in performing first quality services without compromising on the Safety, Quality as well as the productivity needs at the site. We believe that this can be achieved by deploying our experienced resource.
We provide passive cementitious and Intumescent fire proofing & Fire stopping for Commercial and Industrial projects all in full compliance with the industry regulations and best practice.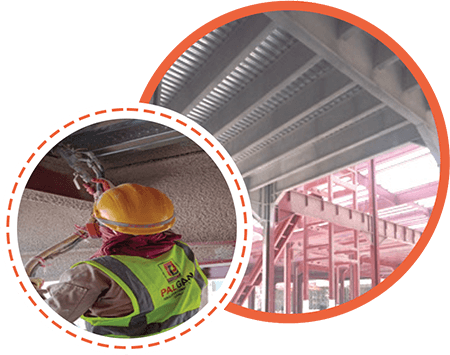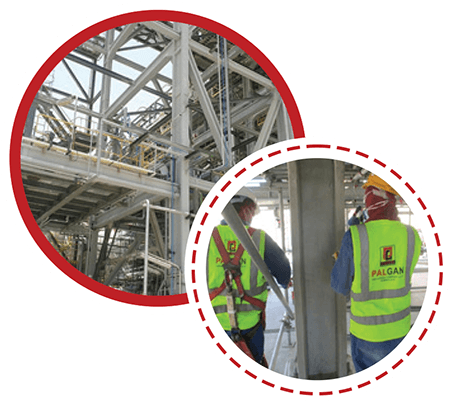 CEMENTITIOUS FIRE PROOFING
Passive Fire Protection products (commonly referred to as Fireproofing) are used to prevent or delay the failure of steel and concrete structures exposed to fire. These materials are intended to insulate the structural members during the event of a fire, delaying any loss of the integrity of the structural members, therefore, allowing people time to leave the building and the fire-fighters necessary time to extinguish the fire without building collapse. For this reason, you need to have the best installation of this type of material.
Fire Rating Hours –

30 mins up to 240 mins
INTUMESCENT FIRE PROOFING
Intumescent coatings are becoming increasingly popular since it provides the owner and architect with the flexibility of achieving an aesthetically pleasing way to fireproof structural steel.
Intumescent fireproofing are thin film coatings designed for exposed applications and can be used for both interior and exterior fireproofing applications. Intumescent coatings come in solvent and water-based formulations and provide up to a three-hour rating on beams and columns.
Fire Rating Hours –

30 mins up to 180 mins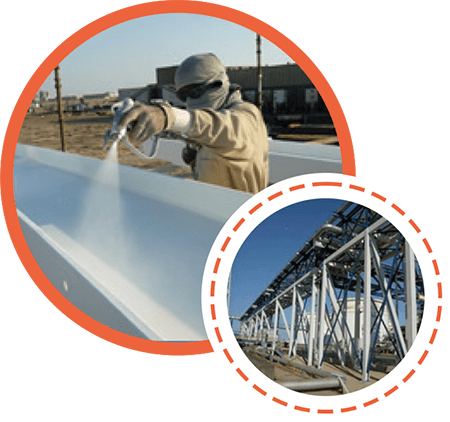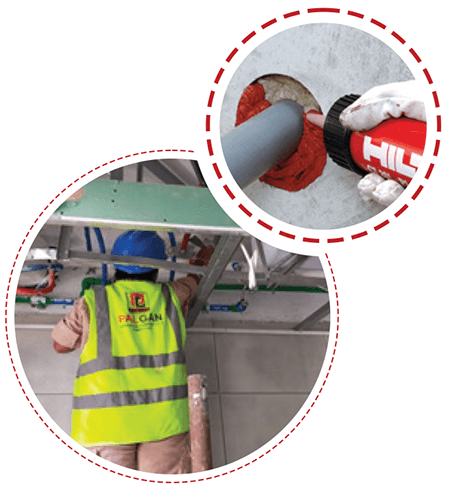 FIRE STOPPING
A firestop is a system that's designed to contain smoke and fire in the areas where a fire is sparked.
Structural fires can lead to severe fire damage and covering the cost of the repairs or replacement can get expensive. By installing a firestop system, the aftermath can be minimized so you won't have to spend as much to restore all your losses and will reduce the time your business is out of commission.
We Palgan offers a comprehensive option of services for your fire stopping needs
THERMAL INSULATION
Thermal insulation is the process of retarding the flow of heat from transferring between adjacent surfaces.
Thermal insulation materials, known as insulators, are installed in commercial buildings to improve the energy consumption of the buildings' cooling and heating systems. They are also installed in industrial systems to control heat gain or heat loss on process piping and equipment, steam and condensate distribution systems, boilers, and other process equipment.
We have completed almost every possible form of mechanical insulation project, including storage tanks, exchangers, heaters, process piping, refrigeration systems, turbines and boilers.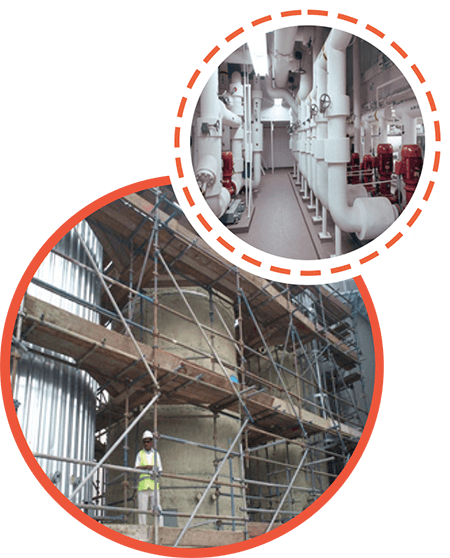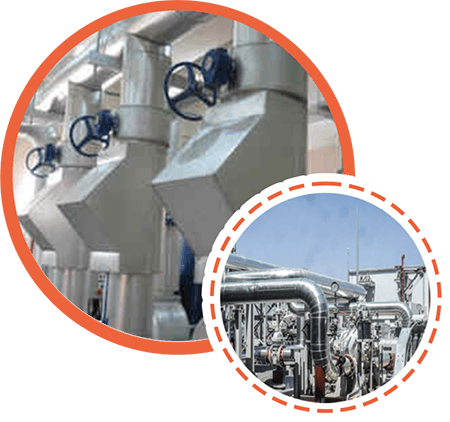 ALUMINIUM JACKETING (CLADDING)
Insulation jacketing known as cladding is an outer covering that is wrapped around tubing or pipe insulation to shield the insulation from moisture, wear, and mechanical damage. Insulation jacketing plays a vital role in the productivity and effectiveness of the mechanical insulation
We have successfully completed insulation work on a number of large-scale projects with the help of our experienced insulation crew and project management team. We possess the expertise in providing design and solutions to a vast variety of business sectors.
REFRACTORIES &
TECHNICAL CONSULTANCY
Refractories are ceramic materials designed to withstand the very high temperatures (in excess of 1,000°F [538°C]) encountered in modern manufacturing. More heat-resistant than metals, they are used to line the hot surfaces found inside many industrial processes.
In addition to being resistant to thermal stress and other physical phenomena induced by heat, refractories can withstand physical wear and corrosion caused by chemical agents. Thus, they are essential to the manufacture of petrochemical products and the refining of gasoline.