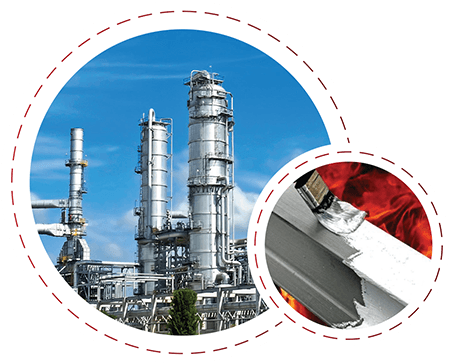 PALGAN Insulation Co LLC is an ISO 9001-2015 accredited company started in Dubai – United Arab Emirates by D. Palani Rajan and G.Gangadhar in the Year 2006. It was started as a small company for the Installation of Thermal Insulation & Cladding works, then expanded the services to include Passive Fire Protection, Refractory Applications and Guniting / Shotcreting Works. We have more than 180 labors to execute the jobs we undertake and currently we are one of the Leading Passive fire protection (PFP) Contractor in the UAE having successfully completed more than 400 projects.

MISSION
PALGAN takes pride in our ability to provide top quality work on every project we do. We are dedicated to insuring that all projects are completed safely, efficiently, and on schedule. We have built working relationships with multiple Steel & general contractors based on our reputation of excellence that will continue to grow for decades to come. Palgan Insulation guarantees proper installation of our products to protect a structure and all those who are in it. At Palgan, we are silently protecting and saving lives at a time.

VISION
Leading the construction services industry by offering our clients outstanding satisfaction, and unique customer experience, through our high level of expertise and quality execution. We are committed to be the safest, most cost effective and trustworthy company in markets in which we operate.

EXPERIENCE
We have exceptional experience with applied fireproofing, intumescent fireproofing, Thermal Insulation, Cladding Works and Refractory services. Our knowledge of the construction process enhances our capabilities and client relationships. We are compliant with all building codes, insurance requirements and government regulations.

CEMENTITIOUS FIRE PROOFING
Passive Fire Protection products (commonly referred to as Fireproofing) are used to prevent…

INTUMESCENT FIRE PROOFING
Intumescent coatings are becoming increasingly popular since it provides the owner…

FIRE STOPPING
A firestop is a system that's designed to contain smoke and fire in the areas where a fire is…

THERMAL INSULATION
Thermal insulation is the process of retarding the flow of heat from transferring between…

ALUMINIUM JACKETING
Insulation jacketing known as cladding is an outer covering that is wrapped around tubing…

REFRACTORIES
Refractories are ceramic materials designed to withstand the very high temperatures (in excess…